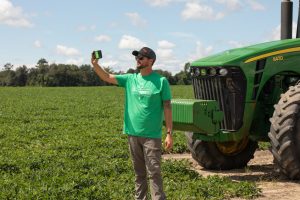 Jim McArthur, better known as Randy the Farmer, has taken the social media platforms Tik Tok and YouTube by storm. He is well known for his comedic videos, especially when it comes to his infamous tripping and crazy wig. His fame due to his farming was a long time coming though.
McArthur had always grown up around the farm, but farming had not always been in his plans."Growing up, I wasn't your normal farm kid that was all about farming and loved it," McArthur says. "I tolerated farming, but dad always had me doing the grunt work that he couldn't ask his main guys to do like leveling peanuts in the wagon at harvest."
McArthur is now a second-generation farmer but his family's involvement in agriculture goes back further generations. His grandfather owned the peanut mill, which back then was known as McArthur Croft Peanut. It is now Malone Peanut in Malone, Florida. Also located in Malone is the chemical and feed store that his father currently runs. The feed store began back in the early eighties. His father began farming in 1974 and is still producing crops to this day. Forty-eight years later, McArthur is still producing peanut, cotton, and small grains on the family farm.
It was 2009 when he decided to move back and once he got home, he never left. A few short years later, McArthur and his wife welcomed their first child. Years continued to pass by, and McArthur continued to make videos for himself of small things around the farm. He quickly realized that YouTube videos heavily focused on farming were becoming a big hit and he decided to take a shot at it in 2020.
McArthur's original game plan for his YouTube channel was for it to be cartoon-like and centered around kids. That was when his first video was created called the "Kitty Kat Seafood Bar." Regulations and restrictions got in the way and his channel then morphed into the farm video channel it is today throughout multiple social media channels. His channel is now widely known as "Field Rows."
Although McArthur's success with "Randy" was never planned, he has become widely successful with roughly 339.2K followers. "Randy" began as a joke with his kids.
McArthur's children loved the idea of crazy Uncle Randy and Aunt Sandy. The crazy wig, tightly tucked in shirt, and constant falling brought humor for the kids, but what McArthur did not realize was the humor it would bring for the entire world. "Randy's" career on Tik Tok took off when one of McArthur's close friends, Jeff, suggested he should try out the new social media platform Tik Tok. From the very first video, "Randy" was receiving a lot of traction.
McArthur and his wife now have three kids all while running a farm and a successful social media platform and business. Although his plate stays quite full, he still gets to follow his true passion of creating videos. McArthur truly is living his best life doing the three things he loves most, raising his kids, farming and creating videos. His success now gets him noticed in public places, but he would not have it any other way.